Hotel Seeblick in Gronau – holidays at the Dreiländersee lake
Surrounded by forests, meadows, and flourishing natural habitats, Hotel Seeblick in Gronau is perfectly situated next to the beautiful Dreiländersee lake. People come here to relax, enjoy carefree days at the lake, and experience a closer connection to nature. Culinary delights are certainly not neglected either. Our chef is always coming up with new menus to spoil our hotel and restaurant guests. Get to know your hosts and the Hotel Seeblick team.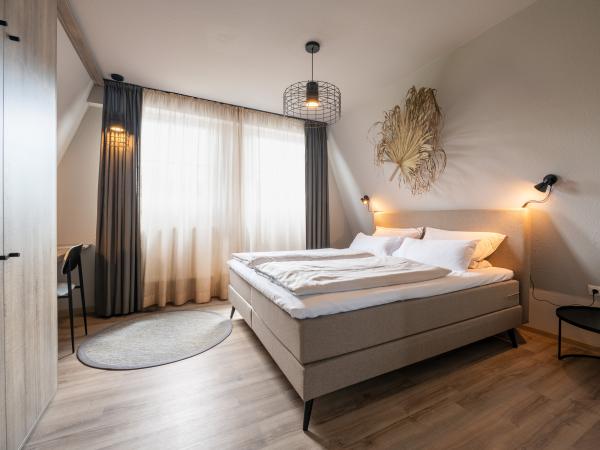 from
€180.00
per night for 2 persons
from
€140.00
per night for 2 persons
from
€130.00
per night for 2 persons
from
€90.00
per night for 2 persons
A paradise for people and animals
Did you know that the world's northernmost breeding area for flamingos is at the Dreiländersee lake? Many other species also inhabit the nature reserves around your apartment hotel. We encourage you to hike and enjoy nature's richness with all your senses and kindly ask you to please take care to protect the wildlife. This applies to both our guests and your pets. We, and especially our honorary security staff, Cuma and Earl, look forward to welcoming your four-legged friends here!
Whether cycling, hiking, enjoying wellness, or discovering castles, everything is possible around the Dreiländersee lake. Take a look at our beautiful lakeside apartments in the A-frame houses and the cosy one-room apartments. We can't wait to welcome you here!
Are you wondering what an A-frame house is? It's when the roof extends to the ground. If you're still curious, just have a look at our holiday homes!