Holidays by the lake in North Rhine-Westphalia: Fun is guaranteed!
Wouldn't it be wonderful if you could visit a new country, swim in the lake, and have a coffee in the next town in one day without ever getting into a car? This is possible during your holidays by the lake in North Rhine-Westphalia. From the Seeblick, you can set off for the Netherlands, several nature reserves, and the beautiful area of Münsterland – all quickly and easily by bike. We have lived here for a long time and are still fascinated by the wealth of experiences in our region. Swimming in the Dreiländersee lake, hiking in the Ruhr area with your family and dog, visiting castles and palaces in gently rolling Lower Saxony – you can stay at our holiday apartments in Gronau from spring to winter.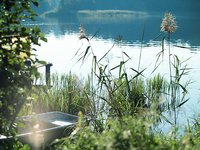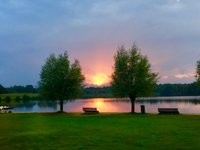 kilometres of cycle paths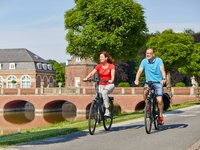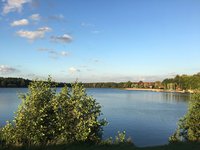 Gentle rays of sunshine and chirping birds gradually rouse you from a deep sleep. You are lured outside to the terrace and enjoy a good stretch. Perhaps you'll go on the first walk of your holidays with your dog at the lake.
Without any hurry, refuel at the breakfast buffet and slowly start your day at the lake in North Rhine-Westphalia.